Hobby Farm Camping
Whitchurch Canonicorum
Tel: 07881 563571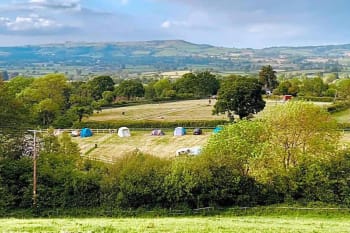 Peaceful Hobby Farm Campsite is set in the Dorset Area of Outstanding Natural Beauty with an abundance of footpaths for walking. There is a lake in the grounds in which you can fish or, if you prefer, you can just relax in the adults-only site with a low-key atmosphere, or walk the 500 yards to the nearest pub just up the country lane. The site's also a 10-minute drive to the famous fossil beach in Charmouth (for fossil hunting) and footpaths connecting to the coast from here mean you can roam on down through the green countryside in about an hour and a quarter. You an bring your dog too as dogs are welcome at Hobby Farm. For beaches with a bit of bustle, West Bay and Lyme Regis' restaurants, bars and boutiques are less than a 10-minute drive. A supermarket's less than a 15-minute drive for alfresco cooking and a farm shop within a mile so excellent for a working up an appetite to get your breakfast provisions.
Availability
There are no rooms available at Hobby Farm Camping
for these dates.
Please try other dates or select a
different property
.
pitchs
Max:
Shared facilities
Otter's Nest Shepherd's Hut with heating, kitchen area, and shared toilet and... more >
Otter's Nest Shepherd's Hut with heating, kitchen area, and shared toilet and shower facilitiesRoom Facilities:
Kingsize Bed
Kettle
Heater
Crockery and Glasses
Shared toilet and shower
Gas Hob
Bring Own Bedlinen/Towls
Utensils
Fridge
Log Fire
Radio
Max:
Shared facilities
The Fox's Den Shepherd's Hut with kitchen area and shared toilet and shower... more >
The Fox's Den Shepherd's Hut with kitchen area and shared toilet and shower facilities.Room Facilities:
Bring Own Bed Linen/Towels
Double Bed
Kettle
Heater
Gas Hob
Crockery and Glasses
Shared Toilet and Shower
Utensils
Fridge
Radio
Max:
Shared facilities
Non-electric grass pitch for tents or trailer tents only. Adults only.<br /> Pets... more >
Non-electric grass pitch for tents or trailer tents only. Adults only.
Pets Welcome
Policies
Check In: Between 12:00 and 20:00
Check Out: Between 10:00 and 10:00
Wi-fi: There is no wireless internet available.
Smoking: There is no smoking permitted anywhere within the property.
Parking: Parking for all guests is available on site and is free of charge.


Children: All guests must be 18 or over, no children are allowed.
Pets: Pets are allowed at a charge of £2.00 per day.
Groups: Groups are accepted up to a maximum of 2 people. No stag and hen groups.
Average
4.8
out of 5
83 reviews
100% recommend
Reviews
11th August 2020:

Lovely little spot, quiet and unspoilt. No fuss, no formality and no kids. Basic but fully adequate facilities, meticulously maintained by the affable Tom. We tented, but camper vans are allowed and there are two Shepherd's huts to hire. Also, when the conditions are right you get stunning sunsets. Oh, and did I mention, no kids!!!
Tips:
Ideally located for the very close by Seatown, Charmouth (try the chippie on the main road - very good) and Lyme Regis plus, of course, the rest that the Jurrasic Coast has to offer.
Would Recommend: Yes
11th August 2020:

Lovely campsite, very relaxed, lots of space, great walks from the campsites and really friendly. Beautiful part of the world.
Tips:
Really friendly local pub, The Five Bells
Would Recommend: Yes
9th August 2020:

Had a lovely stay at hobby farm, Tom was very friendly and the facilities were great with the extra hygiene precautions. Very relaxed and friendly
Tips:
We enjoyed going to the beach at Charmouth and searching for ammonite fossils in Lyme Regis. The local pub the Five Bells does great fish and chips
Would Recommend: Yes
9th August 2020:

We had a lovely stay in Fox's Den with our dog. Tom and the people at Hobby farm ensure the facilities are well equipped and clean. There is a little visitor's book in the hut and every suggestion that someone had made, had then been carried out. We were initially concerned that there might be queues for the shower or toilet, but we didn't have a wait at all, as there are never too many people camping there. Thank you for a lovely stay.
Would Recommend: Yes
9th August 2020:

Toilets, shower, fridge/freezer, mobile charging point, washing up facilities. What more do you need. Camping at Hobby Farm was a delight. Watching the kingfisher and family of Moorhens on the lake whilst dancing dragonflies buzzed about. Truly an idyllic location. Tom, was brilliant. Friendly and accommodating and yet not overbearing. It meant that I could properly relax. Thank you.
Tips:
Jurassic coast was just over an hours walk through lovely Dorset countryside. Stacy, Pat and Willow also made my trips to the Five Bells enjoyable and welcoming. Possibly my favourite pub in the world!
Would Recommend: Yes
8th August 2020:

Would Recommend: Yes
8th August 2020:

We had a very comfortable and peaceful stay at Hobby Farm. Great views, clean facilities, friendly owners and no road noise.
Tips:
We had a pleasant ~12 mile hike along the coast path from Seatown to Burton Bradstock and back. Best to start early to avoid the crowds of families in flip flops hobbling along the path around West Bay. We'd highly recommend the Seaside Boarding House at Hive Beach for a meal. The food at Hive Beach Cafe was pleasant but less impressive. We tried the Five Bells Inn down the road from Hobby Farm for dinner. Sadly, despite its very convenient location and friendly staff, we cannot recommend the food. It was bland and beige.
Would Recommend: Yes
7th August 2020:

Very organised and clean site... Tom very helpful
Tips:
A visit to Beer is worth and apparently the caves but we did not get chance to visit them
Would Recommend: Yes
6th August 2020:

Great location, really friendly staff, quite and respectful campers. Would recommend a few more toilets/showers but apart from that perfect
Would Recommend: Yes
6th August 2020:

I thoroughly enjoyed my stay at Hobby Farm. Tom could not have been more helpful and accommodating . The websit was good, booking easy and directions clear. The site was well laid out with good facilities in a very picturesque setting. Definitely one of my best camping experiences. I look forward to returning.
Tips:
The pub is in walking distance and serves good food with very friendly staff. The site is a short drive from both Charnmouth and Lime Regis.
Would Recommend: Yes
5th August 2020:

Would Recommend: Yes
5th August 2020:

Beautiful , peaceful spot to just be in and enjoy the countryside. A kingfisher was spotted doing some fishing on the pond. Clean showers and toilets and a very uncluttered campsite make this a very pleasant place to stay. Away from the crowds and plenty of nice walks and bike rides around the area.
Tips:
The bridleways / paths were great for the mountain bikes which loop back onto the minor roads.
Would Recommend: Yes
5th August 2020:

My wife and I had a wonderful stay at Hobby Farm, it was our first time and certainly won't be our last. The location is fantastic, the site is clean, peaceful and simple but in a good way. Tom came around at least twice a day, he smiled and waved at every single pitch. Our only negative is that we didn't book up for more nights.
Tips:
We loved walking around the village of Whitchurch Canonicorum, it's an idillic place with lots of lovely houses. One of our highlights was stopping at The Five Bells Inn pub which only about a 5 minute walk away, the pub atmosphere was great, the locals, staff and owner were all so friendly and welcoming, which is not like we get a home. There are many walks and cross country paths you can take.
Would Recommend: Yes
4th August 2020:

Would Recommend: Yes
3rd August 2020:

Nice quiet site that made for a great base location. Having a pub 500 yds down the road was very convenient. Nice to be on an adult only site.
Would Recommend: Yes
3rd August 2020:

Perfect stay, lovely site, nice and peaceful, we thoroughly enjoyed our weekend stay at Hobby Farm. Only rated 4 on location as it is a little secluded, however this is what makes it a peaceful and relaxing stay.
Would Recommend: Yes
2nd August 2020:

Idyllic surrounds, cute and comfy Shepherds hut. Ideal getaway.
Would Recommend: Yes
1st August 2020:

Really relaxed site, great facilities for the price. Really great location
Would Recommend: Yes
31st July 2020:

This was our second year, and if anything it's even nicer. The site works well because numbers are kept deliberately low, so it is quiet, scenic, and scrupulously clean. I really appreciate the fact that its adults only, no large groups or motor homes, and you choose your own pitch. The information cupboard is a good idea too. Great work, Tom!
Tips:
Lovely walks around Golden Cap, Charmouth, and Bridport to West Bay and back .
Would Recommend: Yes
31st July 2020:

If ur looking for peace and quiet, surrounded by picturesque views and country walks this is the place to go. A gem of a place, will definitely be returning.
Tips:
I'd only booked two days before going. If I'd had more time I would of got a map of coastal footpaths. I will be more organised next time.
Would Recommend: Yes
30th July 2020:

Excellent small site great view and very quiet. Toilets cleaned regularly. You have all you need for self contained brake. Very friendly owner on site. Local pub good food and beer (all outside in marquee at moment dew to C-19) not on Mondays.
Would Recommend: Yes
27th July 2020:

Very quiet which is what we wanted,we felt very safe with everything going on. Everything was very clean, dog was happy.very relaxing, peace and quiet.
Tips:
Beaches and walks for the dog and ourselves.we cooked ourselves,but did enjoy fish and chips. Very basic campsite but it was what we needed to relax and would come back again.
Would Recommend: Yes
27th July 2020:

The site is in a lovely setting. Tom is a friendly chap who along with his wife and children keep their site in excellent condition. There's a toilet and shower in both fields which for the time we were there were clean and well looked after by both Tom and the campers. They are soon to get a 3rd shepherd's hut which look nice and add to the pleasant feel of the site even if you're in a tent. There's a large pond in the lower field where you can fish. We were told a sizeable pike lurks there and we saw the occasional serious splashing break the surface. There is a rowing boat but you may need a bigger one.
Tips:
The Five Bells pub is just 500 metres down the road and during our stay during the Covid-19 period has a large tent in the garden serving good pub food. I had excellent fish & chips. A 7 mile there and back walk leads leads from the site and with the aid of an OS map you'll find your way to Seatown where the Anchor pub, I was told, does great food. Lyme Regis is 7 miles away.
Would Recommend: Yes
25th July 2020:

Lovely peaceful site and location. Can walk to the beach at Seatown and Charmouth. Tom is very friendly and this sets the atmosphere of the site.
Would Recommend: Yes
23rd July 2020:

Lovely quiet campsite, in beautiful countryside. Facilities simple but perfect for the setting. Will definitely visit again.
Tips:
Beautiful country lanes nearby for nice walks. Plenty of wildlife. Local pub with outside area open.
Would Recommend: Yes
21st July 2020:

Brilliant stay! Thank you so much! It is a wonderful shepherds hut in beautiful surroundings. We would recommend to all!
Tips:
We popped to west bay on as we needed a petrol station and honestly it was had the most beautiful views. Make sure you walk up the cliff edge, it is worth it for the stunning view!! Charmouth was a lovely beach, much quieter Than west bay and Lyme Regis but had a lovely fish and chip shop and again a must see. Lyme Regis was beautiful too, we went mackerel fishing which was a great experience! £15 per person for an hour and it was brilliant.
Would Recommend: Yes
21st July 2020:

The staff are very nice and it's nice and peaceful. Not too busy and not pitched too close to others which is great. And beautiful scenery
Tips:
Gold cap is a beautiful walk and the views are beautiful
Would Recommend: Yes
20th July 2020:

The site was wonderful. They keep it to a very small number of pitches to ensure it is not crowded. We enjoyed a lovely spot at the top of the hill overlooking the fabulous view which offers a stunning sunset. Toilets and showers and kept clean and the staff couldn't do more for you! Highly recommended. We will be back!
Tips:
10 mins drive to Lyme Regis - lovely bustling seaside town. Beautiful Seatown 5 min drive away (possibly walking distance but being heavily pregnant it wasn't for me!). Lovely locals pub 5 min walk down the lane.
Would Recommend: Yes
18th July 2020:

Would Recommend: Yes
18th July 2020:

We loved our camping trip at Hobby Farm. The setting was beautiful, and the campsite itself was quiet, clean and had plenty of space. The thoughtful additions of charging points, a fridge, picnic benches and a fire pit made it even better! The location was a great base for to be able to explore the local area - Lyme Regis, Charmouth, West Bay, Seatown, Golden Cap, Colmer's Hill and many other great spots are a short drive away.
Tips:
Felicity's Farm Shop which is a few minutes drive from the campsite is great for picking up local produce for a picnic.
Would Recommend: Yes
16th July 2020:

Helpful and friendly. Simple, peaceful site.
Tips:
Lovely location. Peaceful, beautiful dog walks on your door step, 10 mins drive to the beach and a short drive to food shops.
Would Recommend: Yes
16th July 2020:

If wild-ish camping is your thing. This is an extremely pleasant place to stay.
Tips:
Get there as near to 12 as possible to get a level pitch. Be aware of very narrow roads approaching the site for some distance. Really enjoyed our stay and would visit again if in the area.
Would Recommend: Yes
16th July 2020:

Great stay. Enjoyable fishing. Nice pub a short walk away. Peaceful.
Would Recommend: Yes
15th July 2020:

I would recommend you but I don't really want too many people to find you so am reluctant, liking instead to keep you a secret for special friends only!
Would Recommend: Yes
13th July 2020:

Great place to stay in the heart of the Dorset countryside and only a stones throw from the incredible sea. Very peaceful setting and also only a short walk to the village pub.
Tips:
The farm shop on the a35 is great for all your needs.
Would Recommend: Yes
13th July 2020:

Lovely well maintained campsite. I really enjoyed the fact that it wasn't too busy and you clearly put the guests first
Tips:
The local pub the 5 bells was also really welcoming
Would Recommend: Yes
11th July 2020:

Absolutely fantastic stay, the site is in a great location with everything you need and on the doorstep of the most amazing country side. Tom is brilliant, cannot do enough for you!
Tips:
West bay, Lyme Regis and bearminster were our favourites
Would Recommend: Yes
7th July 2020:

Would Recommend: Yes
9th March 2020:

Excellent, Shepard's Hut. The little stove kept us toasty warm. Thank you
Tips:
Lots of walks straight from site. Good food and friendly service at the Five Bells.
Would Recommend: Yes
21st February 2020:

Peaceful and beautiful spot. The hut was so cosy and the perfect hidey hole, we really didn't want to leave. Friendly horses in the neighbouring field, ducks, geese and moor hens strutting around were all a joy to watch and listening to the dawn chorus every morning as the moon still twinkled was very life affirming. This little escape was exactly what we needed, thank you!
Would Recommend: Yes
19th February 2020:

We had the most amazing stay at Hobby farm, I loved the feild and lake, the bathroom is clean and fresh. The hut itself is perfect, with the fire on its so warm and cosy. It was well equipped out and has everything you need, We are going to stay again and again as we loved everything about it. Although we stayed there in storm Dennis we still felt safe and happy.
Tips:
The local pub down the road is nice, food is great and very welcoming.
Would Recommend: Yes
18th February 2020:

Over and above service.
Would Recommend: Yes
27th January 2020:

Fantastic location and facilities. Cosy hut but not too small, space for bags under the bed. Handy woodburning stove and electric heaters so not at all cold (we turned heaters down to 1/3).
Tips:
No need to bring wood - it's provided. We didn't mind bringing our own sheets and towels etc since this helps keep the price down.
Would Recommend: Yes
23rd January 2020:

Everything was great, very clean, good shower, comfortable bed, so much peace and quiet. Free coffee and tea. Just one little detail I missed: a tea towel would have been handy. Would definitely come back here!
Would Recommend: Yes
8th January 2020:

Shepherd hut was very nice, everything we could want was available.
Would Recommend: Yes
3rd January 2020:

If you fancy a basic down to earth remote getaway for peace and quiet away from it all, then this does it perfectly.
Tips:
Walks from the hut with great views.
Would Recommend: Yes
16th December 2019:

Had a lovely stay at the shephereds hut, location was good if you wanted to be away from the city life. We didn't actually meet any of the staff at hobby farm so we assumed it was because it's winter. Would recommend a tea towel and maybe some lights/lantens leading to the toilet for when it's dark.
Tips:
We ate at the pub five bells was very nice and only a 5 minuyears walk away. There are beaches and the city of bridport only a 20 minute drive also.
Would Recommend: Yes
Owner Response:
Thank you for taking the time to review our site and sorry we did not get to meet you in person. We take on board your comments about the lights/lanterns leading to the toilet. No linen at all is supplied during the winter months as we offer the Shepherd's Hut on a 'bring your own bedding and towels' basis only but we should perhaps also mention to bring tea towels too. We hope to see you again.
2nd December 2019:

Really lovely stay! Had such a great time and want to come back again. Couldn't recommend it enough.
Tips:
Bring a tea towel, tea, coffee and salt and pepper.
Would Recommend: Yes
29th November 2019:

Would Recommend: Yes
25th November 2019:

The only reason I gave a 4 for facilities was because it would probably be good to have an extra toilet. Also a small stool in the shower would be very helpful, particularly for older and or infirm people, in order to make it easier to sit and dry feet, put socks and shoes on etc. Other than that, the facilites are amazing. It was great to have so many hooks plus the towel rail in the shower and toilet (there so often aren't enough places to hang things at campsites. The Otters Den was brilliant. Bed was comfortable, wood stove great. We loved the homely, cosy feel of it. There were all the utensils one might need (except, potentially, a small measuring jug could be handy). Plus the lamps, egg cups, breadbin and canisters were very pretty. The decorative windows also were lovely. The field and pond are lovely. Very peaceful. In summer it would be beautiful. We would also like to thank Tom very much for his advice when we phoned before booking, to go for Otters Den as it was easier for my husband who is disabled, to use. Also closer to the toilets. He was very helpful.
Tips:
If you are staying in the shepherd's hut, it would be a good idea to bring torches/lamp, as it can be quite dark to walk to toilets/shower and also car park, at night. Lyme Regis, Charmouth, Bridport, West Bay are not far to drive to. I believe there are walks and footpaths around, but as we came in November and it was raining and muddy virtually the whole time, I didn't avail myself of these. But in spring/summer/early Autumn the countryside would be lovely. The local pub (Five Bells) is very friendly and also does food. The church in Whitchurch Canicorum is also interesting to visit. There is a shrine to a verified saint there, plus a few well-known people buried in the churchyard.
Would Recommend: Yes
19th November 2019:

Would Recommend: Yes
4th November 2019:

We had such a wonderful stay. We loved how warm and cosy the shepherds hut was, and how clean the facilities were! It was in a perfect location with beautiful views and the hosts were so accommodating (we were very grateful for the duvet they brought us, having forgot ours!). The whole stay was a wonderful experience.
Tips:
We walked from Charmouth into lyme regis for a pasty which was lovely and also from the donkey sanctuary down into Sidmouth,which had stunning views.
Would Recommend: Yes
1st November 2019:

Tips:
Tom was so nice and helpful. Great place.
Would Recommend: Yes
1st November 2019:

The shepherds hut was beautifully clean and surprisingly well kitted out. The bed was really comfortable and despite horrendous weather we were really snug and warm and enjoyed a great nights sleep! Toilet and shower also very clean.
Tips:
If there has been heavy rain then boots/wellies are a must for crossing the field from the hut we were in!! Unfortunately we were only in the vicinity for one night so didn't get too much of a chance to explore the area well.
Would Recommend: Yes
26th October 2019:

We stayed for 2 nights, the site was lovely and big, lovely little lake. We took 3 dogs with us, so dog friendly! The toilet and shower was absolutely spotless, cleaned every morning, there was a little fridge and place to charge phones! Would 100% recommend to stay here
Would Recommend: Yes
24th October 2019:

Perfect little place for what we needed it for, the shepherd's hut was very charming, the bed was very comfortable and massive! Once the heater was on the hut was soo lovely and warm which made it hard to leave in the early mornings! Loved the little kettle that was provided. The bathroom facilities were great seeing as we were staying in a field and both bathroom and shower were very clean and the shower was lovely and hot which was a surprise! the only downside being they were sooo far away from out hut and there was no path, so had to prepare for soggy feet with every visit. The hut just needed a few finishing touches to make it complete, there was no tea towel so hard to dry dishes, no mat near the front door so wet footprints were everywhere, there was also no outside lighting and the steps were pretty steep and no real storage space or hooks to put any clothes or belongings and we really wanted to leave a little message in the book but there wasn't a pen. Like I said it was perfect for our 2 night stay but if we were to stay longer we would need some more storage space and a few more simple little items to make it an easier stay. but these were only minor issues and we enjoyed our stay very much. The only reason that I gave the service/staff such a low mark was because we didn't see anyone, no note or number left either. But we arrived at 8pm the first night and left at 7am a couple of days later so understandable.
Tips:
If you're going for more than a couple of nights then definitely pack a tea towel/bath mat and a torch! We didn't massively explore the local area, but went to Swanage and visited Corfe Castle! Also went to Knoll beach, Old Harry Rocks in Swanage are definitely worth a visit! We drove up Stonebarrow Hill and walked to the Golden Cap which was amazing and definitely worth a visit, And I'm sure there are some lovely little places just on the doorstep if we had explored further.
Would Recommend: Yes
18th October 2019:

Lovely location, hut had every thing we needed.Hosts met us and were very friendly and helpful.
Tips:
Pub not far and bring a fishing rod.
Would Recommend: Yes
8th October 2019:

Fantastic campsite in a gorgeous setting! We thoroughly enjoyed our stay (and so did our dog!) and hope to return soon...
Tips:
The pub down the road is very welcoming and serves great food - including takeaway!
Would Recommend: Yes
7th October 2019:

Would Recommend: Yes
27th September 2019:

Lovely campsite. Clean facilities. Great host.
Would Recommend: Yes
25th September 2019:

Easy booking on Hobby Farm website. Tom was great and really friendly and helpful. The shepherd's hut Foxes Den was just what we wanted and overlooking the pond. We look forward to coming back when Tom's done the deck and other things we chatted about. We had a bbq and fire pit supplied for chilly evenings. Beautiful tranquil countryside for a get away break from the world but with everything a short car ride away or a 10mins walk to the nice local pub. Must see places Lyme Regis, Bridport on market day Wednesday and Charmouth. West Bay also has a fabulous array of little eating places overlooking the fishing boats. The local farm shop on the A35 just as you turn down to Hobby Farm has the most amazing view to the sea whilst you eat ice cream from a big selection of flavours.
Tips:
Pl
Would Recommend: Yes
25th September 2019:

Lovely site with good walks and not far from dramatic coastline.
Tips:
Excellent walk via Hell Lane to the Illchester Arms is well worth the effort as the food is great. The nearby Shaved Cross also serve fantastic food . If you are walking, be warned that some local footpaths are very overgrown; advice is to stick to the bridleways and byways.
Would Recommend: Yes
15th September 2019:

This campsite is a slice of heaven and we loved it so much upon our first visit in July that we returned in September and will do so again next year. The setting is so idyllic that rather than just using the site as a base from which to explore we actually enjoyed just being on the site itself and the local walks. Tom is incredibly helpful and accommodating and a source of great local knowledge. The five bells pub within walking distance is perfect and serves great value for money food. The only thing I would change is the location of the washing up facilities so that they are not adjoining the toilet and a freezer for ice blocks would be useful. All in all one of the best sites we have stayed at.
Tips:
This site is perfectly located for exploring not only Dorset but Somerset and Devon too. Local walks are well signposted and the local pub is great value for money for really good pub grub. The beaches at Seatown and Eype are wonderful. At Eype (if driving, park at the first car park encountered by the shop and holiday park as much cheaper than the sea front car park and only a 3 min walk to the beach. Walking up the headland is a must not only for the views but also to watch the parasailers taking off and landing.
Would Recommend: Yes
10th September 2019:

Nice Clean Peaceful Pub nearby
Tips:
Lyme Regis Charmouth Salisbury cathedral on way back
Would Recommend: Yes
7th September 2019:

Very clean site with brilliant staff. Really enjoyable stay.
Would Recommend: Yes
7th September 2019:

Great hosts. Made sure we had all we needed but left us to to it. Location is beautiful and so quiet. Just what we needed. The dogs loved it too. Just that the steps to the shepherds hut could do with looking at as very steep but I know they said they were moving it soon so that may be the intention. Had a lovely stay and would definitely return and recommend. Thank you
Tips:
Seatown is lovely for the beach and a walk. The local pub The Five Bells was warm and welcoming to us and the dogs. Food was basic but tasty.
Would Recommend: Yes
3rd September 2019:

Would Recommend: Yes
3rd September 2019:

We had our BEST ever camping experience at Hobby Farm, the beauty and tranquility is outstanding and we loved our 5 night stay so much, that we booked to go back again in 2 weeks time, thank you Tom, you have created an amazing space, we felt so welcome and relaxed, and really enjoyed being able to see the amazing stars while sitting around the campfire.
Tips:
The village fete on the last bank holiday in Aug is a must, had lots of fun playing splat the rat and drinking beer. For deep sea fishing, book with Harry May at Lyme Regis, as there is too much seaweed in Aug fishing on the beaches nearby and so hooks tend to snag and tackle gets lost. Seatown is the place to go for great sunbathing, swimming in the sea with a fabulous pub that serve great food and an amazing range of drinks with outdoor seating near to and overlooking the sea and beach, there is also a grassed area to sit if you don't like sand and the river which runs into the sea is perfect for paddle boarding and canoeing. For walks I recommend buying an ordnance survey map of the area as amazing walks are in abundance, there is so much to do in the area, so need to pick out what you prefer from tourist information
Would Recommend: Yes
2nd September 2019:

Lovely setting and so peaceful even on a bank holiday weekend the only sounds came from owls hooting and acorns landing on our tent.
Would Recommend: Yes
29th August 2019:

This is a wonderful quiet calming adult only site. Huge pitches, with awesome views of the Dorset hills. Spotless facilities. Tom the owner is so friendly and helpful. There is nothing negative to say about this site.
Would Recommend: Yes
20th August 2019:

This small campsite is perfectly located to walk the beautiful Dorset area. The hosts were very helpfull and friendly.
Would Recommend: Yes
14th August 2019:

Tom was really friendly and helpful. The site was spacious and peaceful with beautiful views and nature. Would definitely recommend this.
Tips:
You need a car to get around. There is a good pub in walking distance but you need to drive to get provisions.
Would Recommend: Yes
7th August 2019:

Would Recommend: Yes
2nd August 2019:

Wonderful camp site, so peaceful. Easy to find and lovely surroundings.
Would Recommend: Yes
23rd July 2019:

We really loved Hobby farm. We had a relaxing and enjoyable stay, it was quiet and yet not far from the coast and towns to go for walks/activities. The bathroom and shower were always clean and stocked. It was useful to have the charging point though there is only 1 to share between campers. The mini fridge was also useful. Overall we would definitely recommend Hobby farm and hope to be back!
Would Recommend: Yes
20th July 2019:

Great location, great facilities and the owners are really nice, we had an amazing time and will definitely come back!
Would Recommend: Yes
17th July 2019:

Beautiful tranquil spot with stunning views. A pond to float on (or fish in) and a warm welcome from Tom. Facilities are spotless and work well. A little bit of Dorset heaven.
Would Recommend: Yes
15th July 2019:

Beautiful place, only improv ment to be made would be better signage as when you're towing, it can be tricky to turn around if you go round.
Would Recommend: Yes
12th July 2019:

Wonderful site. Perfect for us.
Tips:
The beach at Cogden was gorgeous. A lovely walk through the nature reserve and only small numbers of people. We loved it.
Would Recommend: Yes
5th July 2019:

Had a fantastic stay nice and clean staff very helpful
Tips:
Local pub is good camel site is relaxed loads of space between each other
Would Recommend: Yes
5th July 2019:

The Shepherds Hut is lovely and clean. The bed is comfortable. There is a small fridge two rings and cutlery and plates. Great outside area and picnic table. Very peaceful site.
Tips:
Pub five minutes walk away.In the evening food is only served until 20.15.
Would Recommend: Yes
2nd July 2019:

All basic facilities provided, good value, quiet site lots of space and no silly rules and regulations. Just what I wanted.
Would Recommend: Yes
27th June 2019:

We went to Hobby Farm for a weekend away from London and wanted something tranquil and picturesque, and that was definitely what we found. We opened the door to the shepherd's hut the first morning and the view was stunning and the surroundings were incredible. We used the BBQ and the burner in the hut when it got chilly at night, and the whole experience was idyllic. The hut was brilliantly done and quite cottage-y inside which added a really nice touch, too. We'll stay again!
Tips:
Stop into the farm shop just along the road. Try Seatown for the pub by the water (great food), and pick up some coal/wood for the burner for a perfect evening chilling at the hut!
Would Recommend: Yes
.