Hobby Farm Camping
Whitchurch Canonicorum
Tel: 07881 563571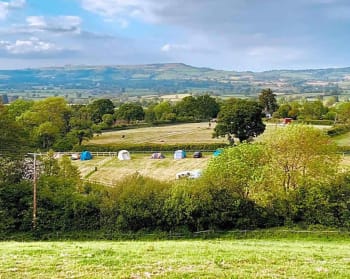 Peaceful Hobby Farm Campsite is set in the Dorset Area of Outstanding Natural Beauty with an abundance of footpaths for walking. There is a lake in the grounds in which you can fish or, if you prefer, you can just relax in the adults-only site with a low-key atmosphere, or walk the 500 yards to the nearest pub just up the country lane. The site's also a 10-minute drive to the famous fossil beach in Charmouth (for fossil hunting) and footpaths connecting to the coast from here mean you can roam on down through the green countryside in about an hour and a quarter. You an bring your dog too as dogs are welcome at Hobby Farm. For beaches with a bit of bustle, West Bay and Lyme Regis' restaurants, bars and boutiques are less than a 10-minute drive. A supermarket's less than a 15-minute drive for alfresco cooking and a farm shop within a mile so excellent for a working up an appetite to get your breakfast provisions.
Policies
Check In: Between 12:00 and 20:00
Check Out: Between 10:00 and 10:00
Wi-fi: There is no wireless internet available.
Smoking: There is no smoking permitted anywhere within the property.
Parking: Parking for all guests is available on site and is free of charge.


Children: All guests must be 18 or over, no children are allowed.
Pets: Pets are allowed at a charge of £2.00 per day.
Groups: Groups are accepted up to a maximum of 2 people. No stag and hen groups.
Average
4.8
out of 5
13 reviews
100% recommend
Reviews
20th August 2019:

This small campsite is perfectly located to walk the beautiful Dorset area. The hosts were very helpfull and friendly.
Would Recommend: Yes
14th August 2019:

Tom was really friendly and helpful. The site was spacious and peaceful with beautiful views and nature. Would definitely recommend this.
Tips:
You need a car to get around. There is a good pub in walking distance but you need to drive to get provisions.
Would Recommend: Yes
7th August 2019:

Would Recommend: Yes
2nd August 2019:

Wonderful camp site, so peaceful. Easy to find and lovely surroundings.
Would Recommend: Yes
23rd July 2019:

We really loved Hobby farm. We had a relaxing and enjoyable stay, it was quiet and yet not far from the coast and towns to go for walks/activities. The bathroom and shower were always clean and stocked. It was useful to have the charging point though there is only 1 to share between campers. The mini fridge was also useful. Overall we would definitely recommend Hobby farm and hope to be back!
Would Recommend: Yes
20th July 2019:

Great location, great facilities and the owners are really nice, we had an amazing time and will definitely come back!
Would Recommend: Yes
17th July 2019:

Beautiful tranquil spot with stunning views. A pond to float on (or fish in) and a warm welcome from Tom. Facilities are spotless and work well. A little bit of Dorset heaven.
Would Recommend: Yes
15th July 2019:

Beautiful place, only improv ment to be made would be better signage as when you're towing, it can be tricky to turn around if you go round.
Would Recommend: Yes
12th July 2019:

Wonderful site. Perfect for us.
Tips:
The beach at Cogden was gorgeous. A lovely walk through the nature reserve and only small numbers of people. We loved it.
Would Recommend: Yes
5th July 2019:

Had a fantastic stay nice and clean staff very helpful
Tips:
Local pub is good camel site is relaxed loads of space between each other
Would Recommend: Yes
5th July 2019:

The Shepherds Hut is lovely and clean. The bed is comfortable. There is a small fridge two rings and cutlery and plates. Great outside area and picnic table. Very peaceful site.
Tips:
Pub five minutes walk away.In the evening food is only served until 20.15.
Would Recommend: Yes
2nd July 2019:

All basic facilities provided, good value, quiet site lots of space and no silly rules and regulations. Just what I wanted.
Would Recommend: Yes
27th June 2019:

We went to Hobby Farm for a weekend away from London and wanted something tranquil and picturesque, and that was definitely what we found. We opened the door to the shepherd's hut the first morning and the view was stunning and the surroundings were incredible. We used the BBQ and the burner in the hut when it got chilly at night, and the whole experience was idyllic. The hut was brilliantly done and quite cottage-y inside which added a really nice touch, too. We'll stay again!
Tips:
Stop into the farm shop just along the road. Try Seatown for the pub by the water (great food), and pick up some coal/wood for the burner for a perfect evening chilling at the hut!
Would Recommend: Yes
.