Long Cottage
Mill Lane Chideock
Tel: 07793633297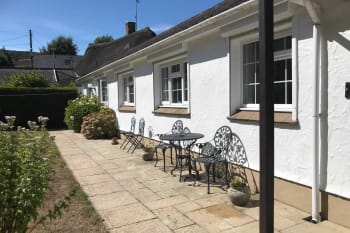 Come and stay at Long Cottage in Chideock, the newly available single-level, pet friendly holiday cottage situated in the heart of the coastal village of Chideock. The is perfect for up to 4 guests with two bedrooms and two bathrooms and has a lovely, enclosed garden and is situated in a quiet area of the village. It is walking distance to 3 excellent pubs and the beach at Seatown. Pet friendly too.
Availability
There are no rooms available at Long Cottage
for these dates.
Please try other dates or select a
different property
.
cottages
Max:
Long Cottage was once a milking parlour and is situated in a quiet part of th... more >
Long Cottage was once a milking parlour and is situated in a quiet part of the picturesque village of Chideock. Dorset long cottages were often converted from barns in Dorset in the 1950's with rooms leading from one to the other on one single level. The property is slightly dated with retro features, but perfect for a family holiday and only a 10 minute walk to the beach at Seatown.Room Facilities:
Bath/Shower
Central Heating
Coastal Location
Cooker
Crockery & Utensils Supplied
Dining Area
DVD Player
Electric Shaver Point
Ensuite Bath/Shower Room In Unit
Fridge/Freezer
Hairdryer
Ironing Facilities
Kitchen
Linen & Towels Supplied
Living Room
Microwave
Patio
Private Car Space
Shower Room
Tea/Coffee
Television
Washing Machine
Facilities
Wi-Fi
Bar (nearby)
Garden For Residents' Use
Shop (nearby)
Policies
Check In: Between 16:00 and 21:00
Check Out: Between 10:00 and 10:00
Wi-fi: Wireless internet is available and is free of charge.
Smoking: There is no smoking permitted anywhere within the property.
Parking: Parking for all guests is available on site and is free of charge.


Children: Children of all ages are welcome.
Pets: Pets are allowed and can stay free of charge.
Groups: All groups are accepted.
Average
4.8
out of 5
14 reviews
93% recommend
Reviews
19th September 2020:

This was the our third visit. We have always had good service. Staff have always been good to us when needed.
Tips:
We are dog walkers, so excellent walks close by. A good base to see the sights of Dorset. Charmouth National trust ( Stonebarrow ) only 15 minute drive away ....lovely for walking. The Clock pub/restaurant in Chideock is 10 minute walk. The George pub/restaraunt is a little further down the road . Both do good meals. The Anchor at Seatown 15 minute walk is close to beach.Not one of my favourites....but each to their own. Bridport Town is a lovely little town, lots of different shops to browse.Eype is close by Eype hotel do good food ( dogs allowed in all places mentioned. There are lots of places to visit, without having to drive too far.
Would Recommend: Yes
23rd August 2020:

Would Recommend: Yes
19th July 2020:

Really good communication with cottage facilitator when any problems. Great location for us, unfortunately boiler had been leaking so damp smell in bathroom, great it's dog friendly but did smell of dog slightly would benefit from carpets being shampooed intermittently. Good price especially for location
Tips:
George pub in Chideock we went to twice, once on their pizza night Thursday which is delicious and on anther night, can book in advance which is fab and delicious food.
Would Recommend: No
23rd March 2020:

Very helpful and responsive.
Tips:
Unfortunately, due to coronavirus were unable to socialise so cannot comment on most things. However, the walk to Seatown beach was invigorating and dog-friendly. We did drive along the coast road and explored the villages en route
Would Recommend: Yes
21st October 2019:

Couldn't wish for a better place to stay. Lovely clean cottage. Very well equipped. Ideal for dogs ( enclosed garden ) and lovely walks.
Tips:
There is a pub on the beach at Seatown, The Anchor open most of the day for food.15 mins walk. The Clock Inn is only 10 mins walk. Friendly atmosphere,good food. Stonebarrow at Charmouth is National Trust beautiful scenery and lovely walks. Bridport has a lovely shopping centre, proper Butchers and bakers. Lots of places to see without having to travel too far.
Would Recommend: Yes
10th October 2019:

Very good
Tips:
See guest book
Would Recommend: Yes
18th September 2019:

We were very pleased with the cottage. It was well equipped,very clean. booking the cottage was very easy.So good we are coming again.
Tips:
There are plenty of places to visit as it is a good base. It is walking distance (15 mins) to beach, and lots of lovely walks for the dog. Local pubs are ok with dogs to go in.
Would Recommend: Yes
12th September 2019:

Lovely, comfortable cottage and great location. The only negative was the really busy road running through Chideock.
Tips:
Three good pubs with nice food. The clock was the friendliest. Excellent walking on the coast path.
Would Recommend: Yes
17th July 2019:

The only one point is the shower, the shower head holder would not hold in place, we had to tie it up so that we could use it.
Would Recommend: Yes
29th May 2019:

The cottage is in a nice quiet location and we found it very comfortable. It is only 5 minutes walk to the local Spar shop which supplied all our daily needs. We would happily make a return visit to Long Cottage and certainly hope to do so.
Tips:
We had an enjoyable meal at the Clock Inn at Chideock. A friendly pub with a good selection on the menu. It was a pleasant walk down the lane to Seatown Beach (about 15 minutes) and the cottage is well located for exploring all of the Jurassic coastline. There are a good selection of coastal path walks in the area for the more energetic.
Would Recommend: Yes
26th May 2019:

Just a couple of sun loungers for the garden would complete this excellent accommodation The cleaning staff carry out excellent work and Heather goes above and beyond call of duty
Tips:
The Anchor at Seatown. The Hive at Burton Bradstock and Rachels at West Bay all thoroughly recommended. All the coast is very beautiful and time must be taken to stop and stare
Would Recommend: Yes
Owner Response:
Thank you for your suggestion of sun loungers. We will certainly look into this.
29th April 2019:

Great communication. Only improvement would be have extractor fab in en-suite shower room as that bathroom and bedroom smelt damp due to this and although shower always hot could be modernised slightly but otherwise really well equipped cottage thought it was brilliant and great location
Tips:
We booked to have Japanese meal again at hellbarn (had stayed there last year and had got them to cater for us one night) walked there with the kids as not too far from the cottage and beautiful food, would definatley recommend for something different. https://hellbarn.co.uk/food.asp George pub great especially Thursday for pizza night work booking.
Would Recommend: Yes
24th March 2019:

Lovely cottage - well equipt and so much room ! We knew the area so was in easy reach of all the things We wanted to see and do
Tips:
The George - walking distance / lovely and recently refurbished .. food great The Clock even closer .. great food and felt very welcoming Finally The Station Kitchen .. West Bay .. Our best place .. food excellent and attention to detail makes it a very special place to be xx
Would Recommend: Yes
4th January 2019:

We had a lovely stay and the location was amazing for exploring the Dorset coast. The property was clean and spacious and had everything we needed. Some aspects were dated and the double bed sheets didn't fit properly otherwise it was perfect.
Tips:
The Anchor in seatown which is a 15 minute lovely walk is definitely worth a visit. Food is lovely. Charmouth and Lyme Regis are both so close, and are just visit beaches for fossil hunting. The golden cap is a fabulous walk and the views are breathtaking.
Would Recommend: Yes
.