Hell Lane Annexe
Perry Hay East Hell Lane Chideock
Tel: 01297480919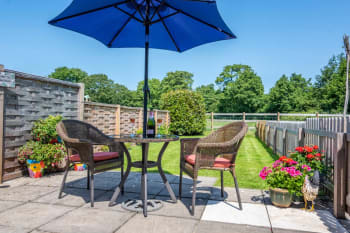 Perry Hay Apartment sleeps two, contains a double bed, shower room, kitchenette and seating area with TV and free wi-fi. With its own small fenced garden area it is ideal for dogs.
Availability
There are no rooms available at Hell Lane Annexe
for these dates.
Please try other dates or select a
different property
.
units
Max:
En suite
Pet friendly apartment. Sleeps two with double bed, kitchenette and shower. more >
Pet friendly apartment. Sleeps two with double bed, kitchenette and shower.Room Facilities:
Alarm Clock
Dining Area
Dishwasher
Fridge
Hair Dryer In Room
Heating Throughout Property
Ironing Facilities
Kitchenette
Linen & Towels Supplied
Microwave
Patio
Tea/Coffee
WI-FI Internet Access
Facilities
Internet Access
Garden For Residents' Use
Policies
Check In: Between 16:00 and 20:00
Check Out: Between 10:00 and 10:00
Wi-fi: Wireless internet is available and is free of charge.
Smoking: There is no smoking permitted anywhere within the property.
Parking: Parking for all guests is available on site and is free of charge.


Children: Children of all ages are welcome.
Pets: Pets are allowed and can stay free of charge.
Groups: All groups are accepted.
Average
4.9
out of 5
17 reviews
94% recommend
Reviews
28th August 2021:

Beautifully designed cottage. Compact but has everything one needs. The little "extras" were much appreciated. Never stayed in self-catering accommadation where enough toilet rolls were supplied for the whole of the stay but they were here. Carol & Derek were friendly and helpful and a delight, they certainly were not intrusive. I was there 4 nights and it was wonderful. Would like to return. Thanks Carol & Derek
Tips:
Pasties (tried the chicken & chorizo) at Felicity's Farm Shop were lovely. Ate it in their seating area surrounded by fantstic views of Golden Cap. Market day in Bridport, Wednesday, was good. Great ice cream at Sammi's in West Bay. Seemed expensive but the portions were more than generous. Lovely area for a relaxing break, even if you are travelling alone, I was.
Would Recommend: Yes
12th July 2021:

Carol and Derek were brilliant hosts and full of useful information. The annexe is small but really well thought out and it is very peaceful there.
Would Recommend: Yes
29th June 2021:

Such a peaceful location and yet handy for everywhere I wanted to go. Even being there on my own it felt very comforting and Carol and Derek were perfect hosts. They are so knowledgable about the area and provided tea, coffee, sugar, milk, biscuits and freshly laid eggs for breakfast which was a lovely touch. I definitely want to go back.
Tips:
Walking to the brilliant local pub, The George for their delicious Boullabaisse was a highlight and it is a further short walk down to the beach and the coastal path from there. I particularly enjoyed Abbotsbury which is a very pretty village with great tea rooms at The Old Schoolhouse. The gardens are really lovely, such an incredible collection of plants and trees with beautiful texture, colour and form. You will need to spend a couple of hours there at least and on a good day should definitely climb up the magnolia walk for the view around the bay. I didn't quite know what to expect at the Swannery but it is fascinating and I loved watching the family groups and the cygnets as well as all the other wildfowl. Wherever you go enjoy the beauty and tranquility of the area!
Would Recommend: Yes
28th May 2021:

Perfect for a quiet 'away from it all' break
Would Recommend: Yes
Owner Response:
Thank you so much and glad you had a lovely relaxing break
31st October 2020:

A very clean and comfortable short stay holiday annexe. Very friendly hosts. Lovely rural setting.
Would Recommend: Yes
20th October 2020:

A superb little annex in a beautiful quiet location. So many great places to see within walking distance.
Tips:
Golden Cap, Seatown and Burton Bradstock are fab places to visit. Lots of good pubs close by but it's definitely worth booking first.
Would Recommend: Yes
18th September 2020:

Excellent location with no passing traffic; lots of good walking with the dog; the room was comfortable and very clean with good facilities.
Tips:
The local pub / restaurant whilst not 3* was perfectly OK.
Would Recommend: Yes
16th September 2020:

Carol and Derek are lovely couple who cannot do enough to make you feel welcome and are available for any information but not intrusive in any way. The 3 dogs are very friendly and well behaved which is no more than you would expect from Carol and Derek. We really loved walking in the surrounding hills which are stunning. The annexe is so clean and comfortable and some nice touches i.e fresh eggs from the chickens and treats for the dog. All in all we had a brilliant holiday.
Tips:
The George Inn great food and staff. Very dog friendly and felt very Covid secure. Symondsbury Estate was our favourite place to visit. You can walk around the whole estate which is beautiful also lunch was good in restaurant. The walk from West bay to Eype was great along the top of the cliffs and when you reach Eype it has a stunning little bay. Felicity's farmshop has some lovely produce and the pasty's and cheesecake are so delicious. Views sitting outside are amazing.
Would Recommend: Yes
3rd September 2020:

Lovely, unique location. Apartment was spotless, immaculate and extremely well equipped. Garden with barbecue. Lots of free bee extras too, biscuits, eggs, milk etc. Three lovely dogs next door!
Tips:
Avoid popular spots on Bank Holidays. Moving and parking very difficult then. It's quite a long drive but food at the Thimble Inn near Dorchester is outstanding!!!
Would Recommend: Yes
21st August 2020:

Have stayed here before it is a great place, have already given details to a couple of friends. Carol & Derek are very warm/helpful and make you feel very welcome. We even had a good few chats over the fence (2 meters apart) about what we did and where we went etc.
Tips:
Ok, here we go. Walk Hell Lane,make sure you have good footwear. Anchor Inn, Seatown for seafood and eating out. Tierra Kitchen, Lyme Regis if you are Vegan/Veggie The George, Chideock for Pizza on Thursdays. Lyme has some good shops for gifts. Felicity's Farm Shop is the nearest place for supplies after the Spar and Moores Bakery is just down the road for good bread, cakes and biscuits (not open on Mondays) If you are into walking, Golden Cap is really good and you can do it from the apartment or park at Seatown and have a drink at the Pub on your return.
Would Recommend: Yes
15th March 2020:

Really friendly owners who are helpful and knowledgable about the area.Well designed compact accomodation in lovely surroundings,fresh free range eggs from owners birds and milk there on arrival thanks.
Tips:
Highly recommend the Anchor Inn at Seatown,we had two lovely meals there,lots of walking nearby ,Golden Cap, Colmers Hill. Trip to Weymouth via the coast road is a must great views over Chesil beach,one of the great British road trips
Would Recommend: Yes
18th September 2019:

Carol and Derek are welcoming and lovely people. I didn't appreciate just how small the accommodation was. Ideal for one or two nights but not suitable for a week. It was entirely my own fault as I should have made further enquiries.
Tips:
Very central for visiting all the surrounding attractions. The George and The Anchor pubs served excellent food.
Would Recommend: No
27th July 2019:

Missed having a microwave but excellent otherwise. Enjoyed all the animals especially the two pigs. Lots to do within easy reach.
Tips:
Lovely walks very close. Good food too.
Would Recommend: Yes
Owner Response:
Just to let you know, we have listened to your comments and have now added a microwave. Thank you for the feedback
15th July 2019:

Welcoming and friendly.
Tips:
Very quiet rural location but easy to get out to everything in the locality.
Would Recommend: Yes
6th May 2019:

Perry Hay Apartment is compact and ideal for a couple, everything is neat and tidy and very well thought out. There are lots of little touches that make all the difference to your stay. The hosts are very friendly and I would recommend it.
Tips:
A walk from Perry Hay to Seatown to the beach is well worth doing.
Would Recommend: Yes
10th April 2019:

Wonderful situation, loved the birds, animals and the view behind the apartment. Would have enjoyed it more if the weather had been better - but that is England for you! Great to find dog friendly accommodation and every need catered for.
Tips:
Visited Portland Castle, dog friendly and a café in Lyme Regis also dog friendly with many pubs in the area that were too.
Would Recommend: Yes
1st October 2018:

Carol and Derek could not have made us more welcome.They have thought about everything to make our stay comfortable and relaxing. The location is ideal with beutifull countryside and walks on the doorstep,short drive to the coast and local Inns serving great food. We will return . Thankyou Carol & Derek
Tips:
Our favourit Inn is the Anchor at Seatown,great food and seaview. Great dog walking area.
Would Recommend: Yes
.