St Andrews House
Uplyme Road Lyme Regis
Tel: 01297 445495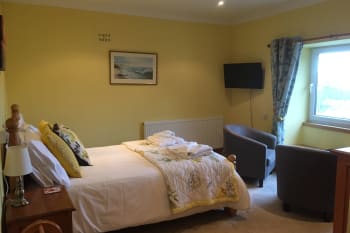 From its elevated location a short distance from Lyme Regis town centre St Andrews is a substantial property which has recently been extensively refurbished. The spacious accommodation includes a games room, fitness room, lounge area and conservatory inside and a season heated swimming pool and sun deck overlooking the town and Jurrasic coastline. Rooms include smart TV and are all ensuite with Nespresso coffee machine and local teas. Facilities include dining room which can be used in evenings on request.
Availability
There are no rooms available at St Andrews House
for these dates.
Please try other dates or select a
different property
.
rooms
Facilities
Games Room
Swimming Pool (seasonal)
Lounge Area
Sun Terrace
Breakfast Room
Conservatory
Courtyard
Early Breakfast By Arrangement
Fax/Email Facilities
Garden For Residents' Use
Internet Access
Lounge
Luggage Storage
Policies
Check In: Between 15:00 and 20:00
Check Out: Between 10:00 and 10:30
Wi-fi: Wireless internet is available and is free of charge.
Smoking: There is no smoking permitted anywhere within the property.
Parking: Parking for all guests is available on site and is free of charge.


Children: Children aged 8 or over are welcome.
Pets: Pets are not allowed.
Groups: All groups are accepted.
Average
4.8
out of 5
18 reviews
100% recommend
Reviews
6th October 2021:

Very welcoming and happy to help in any way to make sure we had what we needed. Lovely breakfasts, catering for a vegan diet very thoughtfully, and it was a pleasure to eat in the sunroom. The bedrooms were very comfortable in every way. King sized beds with soft white bedlinen, and cosy fluffy towels. Our rooms were well stocked with a range of teas and a coffee maker if we wanted. Lovely light rooms with big windows. The hotel is up a long steep hill from the town centre, and there are awkward rather steep steps to the front door.
Tips:
We love Lyme Regis and know parts of the local area quite well. We enjoyed eating at The Pilot, The Lyme Bay, and Hix restaurant, and staff in all three were extremely helpful, friendly and knowledgeable. In Lyme Regis we recommend exploring the Cobb and the harbour, any time of year. As it was so wet this time we had a wander round the mix of independent and interesting shops. Exceptional independent toy shops and an amazing second hand bookshop! Inspite of the very wet windy weather for much of the time, we still enjoyed ourselves. It's a pleasant walk from the hotel car park down Roman Road and beside the stream, eventually arriving at the town centre. There's so much more than this to see and do in and around Lyme Regis - a great area for exploring on foot, wonderful seashore, footpaths through meadows and along lanes, the Undercliff, fossil hunting and fascinating discoveries on the beach between Lyme and Charmouth. A walk up to Golden Cap from Stonebarrow if you're feeling strong and fit!
Would Recommend: Yes
1st October 2021:

We had a lovely stay at St Andrews House. Fiona and Jon were very warm and welcoming, and made sure we had everything we needed. The accommodation was to a high standard and the facilities were excellent. The continental and cooked breakfast was varied and delicious. Highly recommend.
Tips:
We had a delicious dinner at Rock Point Inn, with a lovely view over the water.
Would Recommend: Yes
21st September 2021:

Lovely rooms with great views, a nice welcome on arrival. Fresh milk for your tea/coffee. Swimming pool & snooker table available, the garden is beautiful.
Tips:
We ate at The Pilot Boat, The Volunteer Inn & Largigi's, I would highly recommend all three! The Rock Point Inn is lovely, we only had drinks there but is definitely on our list for food next time.
Would Recommend: Yes
16th September 2021:

Would Recommend: Yes
25th August 2021:

Spotlessly clean & attentive hosts. If I visit Lyme Regis again I will try & book accommodation with St Andrews House again.
Would Recommend: Yes
15th August 2021:

Fiona and Jon are perfect hosts, very friendly and really helpful if you need anything from a cab, restaurant suggestion or ideas of places to visit. The breakfasts are freshly cooked, great choice and the quality of the food was amazing. The room was good with view over the pool and gardens and could see the sea. A nice pool in the garden which some visitors used....not sunny enough for us though, but remember your own towels for swimming. There's a snooker table and lots of dvd's available to borrow and books too. Free parking a great added bonus. The rooms are a little walk up from the car park but Jon helped my friend with our bags. Breakfast served in a bright conservatory and you can have a take away in the evenings in there should you want and Fiona will supply plates, cutlery and glasses. No fridge in the room but a communal fridge downstairs where there's milk or you can put your wine in there. My only advice is that as the B&B is right at the top of the town make sure you'll feel fit enough for the walk back or pre-order a cab at least a couple of days in advance. You can get a bus but that was more expensive than a cab.
Tips:
We had an amazing meal in the Rock Point Inn, great service and fab food. The Pilot Boat Inn food was OK but service not that consistent and probably wouldn't recommend unless you want average grub. We had a lovely Sunday lunch at The Harbour Inn, very good except the only disappointment was they used pre frozen roasties🤨🤨 We visited Beer a nice little place, but mostly stayed local to Lyme Regis. Definitely walk through the gardens, walk along the Cob, handle starfishes in the aquarium, get fish and chips from Lyme Fish shop. Down by the Mill you can just see a faded Banksy on a house wall and there is a lovely little Tapas/cafe style restaurant tucked in the corner...amazing paella, tapas, coffee and cakes! Would recommend its called The Strawberry Tree. A very English seaside town and hope to go again for sure
Would Recommend: Yes
7th August 2021:

Wonderful stay. Breakfast was top quality. Room was lovely.
Tips:
Beware of the gulls if eating on the beach.
Would Recommend: Yes
19th July 2021:

Fantastic B&B - Fiona and Jon were great hosts made us really welcome and the breakfast was second to none. Added bonus was a fantastic outdoor swimming pool at the perfect temperature. I very rarely write a review but this B&B is second to none.
Tips:
Great places to visit on your door step. 5 min walk in to town. Visit Lyme Regis Lyme Regis Brewery Pilot Boat Restaurant Visit West Bay, Beer, Exmouth, Axmouth,
Would Recommend: Yes
2nd July 2021:

Had an amazing short stay,would have liked longer. Was made to feel very welcome. Amazing breakfast. Hotel was clean and bedroom very comfortable with stunning views. Having a carpark was a great bonus. Would definitely recommend and hope to return soon.
Tips:
A short walk takes you to top of town, plenty of cafes, restaurants and pubs.lovely walk to Cobb. Plenty of benches along sea front to watch the world go by. Beautiful part of Dorset.
Would Recommend: Yes
23rd May 2021:

Homely and welcoming. Excellent breakfast.
Tips:
A ten minute walk into town where there is plenty to keep you occupied.
Would Recommend: Yes
28th September 2020:

A beautiful B&B with lovely friendly hosts and excellent breakfasts (I loved the fresh fruit salad especially!). My room (Golden Cap) was just gorgeous — light and sunny, beautifully decorated and with one of the comfiest beds I've ever slept in. En suite shower room was excellent as well. The location is a bit of a walk from the town centre (uphill on the way back) but not too bad, and buses and taxis are always an option — otherwise, it's good exercise! Very happy with my stay and would definitely recommend to others. Many thanks Fiona and Jon!
Tips:
Lyme Regis is a lovely seaside town, not too big and not too small, with lots of interesting and quirky shops and things to see. The local museum is well worth visiting, the seafront is lovely to walk along and there are plenty of good places to eat. As the home of the original fossil hunter, Mary Anning, Lyme is a must for anyone (kids and adults!) interested in the prehistoric world. Also plenty of literary interest too, as Jane Austen's Persuasion and John Fowles' The French Lieutenant's Woman are both partly set in Lyme. Very good shops as well — I recommend Ammonite (deli full of local foods and gifts) and Pug & Puffin (delightful dog-themed gift shop). Really, there's something for just about everyone! I definitely hope to visit again some day.
Would Recommend: Yes
19th September 2020:

Lovely food. Located at top of hill so helps keep you fit after food at some of the nice restaurants. Friendly staff. Loads of books and DVDs available, and even a full size snooker table if that floats your boat
Tips:
Loads of walks available from the town. Lots of food places and fish and chips. Found everyone very friendly and helpful. If it's height of season book your restaurant, but we were ok just turning up most nights. Swim restaurant and pocho pizza need booked. Pilot boat had range of food at good price with good service. Indian restaurant in main part of town was very good grub
Would Recommend: Yes
3rd January 2020:

Lovely guest house. Ideal location, short walk to the sea front. Our room was spacious with a great view and immaculately clean. Excellent breakfast and lovely owners.
Would Recommend: Yes
28th July 2019:

The best B&B I have stayed in during my 67 years on the planet.
Tips:
While in Lyme make time to visit West bay and have lunch at Rachel's followed by an ice cream in Cherries Ice Cream Parlour. Lyme itself is excellent also.
Would Recommend: Yes
14th June 2019:

The location is fabulous overlooking the town and the bay with the cliffs in the background, stunning view. The room was spacious, clean and very comfortable with a modern ensuite,shower and bath. Fiona and Jon, our hosts were welcoming, very friendly and helpful. Very much enjoyed our breakfasts.
Tips:
We chose Lyme Regis for the beautiful scenery and surrounding countryside, ideal for walking which was our main activity. The town itself is full of history going back many hundreds of years.
Would Recommend: Yes
1st April 2019:

Would Recommend: Yes
4th January 2019:

Very comfortable room with everything we needed. Fiona and Jon were thoughtful and friendly hosts. We had a fantastic time, thank you.
Would Recommend: Yes
8th October 2018:

Lovely, friendly welcome was shown where everything was. Very clean. nice view from bedroom. Good breakfast. Private car park is very convenient.
Tips:
Lyme has plenty of pubs, restaurants to eat & drink. Bit of a walk uphill coming back but manageable, takes about 15 minutes.
Would Recommend: Yes
.