Hembury Mill Cottages
Askerswell
Tel: 01297 480882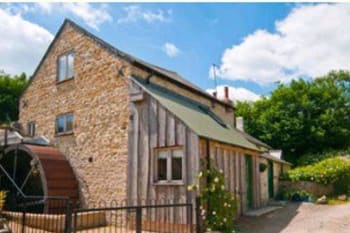 Get away from it all in either The Mill or Cider Barn, which have both been beautifully and sympathetically restored. The holiday accommodation has been converted to a high standard, combining historic character with modern convenience and style. Enjoy a family holiday in our unspoilt and peaceful rural setting. Our smallholding is tucked away down a private track, near the dramatic slopes of Eggardon Hill with its distant views of the Jurassic Coast and the Marshwood Vale. Both holiday properties have the use of a large outside space and orchard with facilities for ball games, swings and wild play in the stream and pond – perfect for children young and old with an interest in nature and wildlife.
Facilities
Garden For Residents' Use
Wi-Fi
Policies
Check In: Between 17:00 and 20:00
Check Out: Between 10:00 and 10:00
Wi-fi: Wireless internet is available and is free of charge.
Smoking: There is no smoking permitted anywhere within the property.
Parking: Parking for all guests is available on site and is free of charge.


Children: Children of all ages are welcome.
Pets: Pets are allowed at a charge of £25.00 per stay.
Groups: No stag and hen groups.
Average
4.9
out of 5
31 reviews
100% recommend
Reviews
6th June 2021:

Would Recommend: Yes
1st June 2021:

Would Recommend: Yes
16th May 2021:

Great location and helpful messages before the visit. Easy to contact when we had questions and to get booked in
Tips:
Visit Durdle Door and Lulworth Cove Check out the local friendly animals!
Would Recommend: Yes
27th April 2021:

Shaun, Judith and Helen were the perfect hosts. From unpacking our Morrisons food delivery before we even arrived, to including our children in helping to feed their newborn lambs.
Tips:
Colmers Hill and eggardon hill are perfect for views of the surrounding areas. Food at The Spyway Inn was excellent and has the added bonus of being walking distance. All the beaches are lovely, the Sandy beach at Lyme Regis was particularly good for the kids. Catch of the Day cafe on the quayside in West Bay did excellent fish and chips. The kids enjoyed the Tram in Seaton and the coffee at Finns Gallery down by the river in Colyton was superb!
Would Recommend: Yes
18th April 2021:

Would Recommend: Yes
14th December 2020:

We really enjoyed staying at the Cider barn. Wonderfully warm and all the facilities you need for a home away from home.
Tips:
Cider barn was a great base for the Jurassic Coast and local Dorset villages. A highlight for us was to go to the car park after the tropical gardens at Abbotsbury and take the circular walk up to the abandoned abbey, down to the village and back to the coast.
Would Recommend: Yes
12th November 2020:

We had a wonderful stay. Comfy beds, good facilities and equipment for self catering. Beautiful outside space (zip wire went down especially well). Lovely peaceful location close to lots of things to do.
Would Recommend: Yes
13th September 2020:

Would Recommend: Yes
3rd December 2019:

Wonderful break from the city. The cottage is well equipped and comfortable. We enjoyed exploring all that Dorset had to offer!
Tips:
The back garden is a dream for kids!
Would Recommend: Yes
10th August 2019:

Would Recommend: Yes
3rd July 2019:

Very helpful owners. Beautifully kept grounds - nice sheep!
Tips:
Dorset is there to be explored - it is simply lovely.
Would Recommend: Yes
19th June 2019:

A lovely place to stay. The flowers lasted the whole week and looked amazing. One of many nice touches that made the place rather special.
Tips:
We particularly enjoyed walking on Eggardon Hill in the late sunshine.
Would Recommend: Yes
6th June 2019:

A wonderful Cider barn - beautifully converted. The garden is magical full of wildlife and flowing water.
Tips:
Close to Bridport.
Would Recommend: Yes
27th May 2019:

Charming cottage, well- equipped and friendly and helpful hosts.
Would Recommend: Yes
22nd April 2019:

Beautiful accommodation, fabulous garden & friendly owners. We had a wonderful week!
Would Recommend: Yes
14th April 2019:

The Mill has been beautifully restored and offers a cosy, comfortable stay. Everything was perfect. Wood burner makes for a perfect way to chill out in the evenings. A great place to unwind... There are even lambs to talk to and pigs!!
Tips:
Great walks from the door...Spyway pub with great food across 2 fields! Plenty to see within a short drive. Musts are Golden Cap, Colmers Hill and Abbotsbury high and low loop...legs may ache but a pub at the end of the hike! No shop locally, so have supplies
Would Recommend: Yes
31st March 2019:

We had a great stay in this lovely converted barn. Everything really good and above the standard we would expect for the very good price. Glorious weather all week was perfect. Excellent location for coast, country, villages and towns. All topped off with the lambing season and feeding one of their lambs by hand. Thank you for a warm welcome and stay in the beautiful Dorset countryside.
Would Recommend: Yes
6th March 2019:

We had a great stay in the unique Mill Cottage. Fantastic location close to beaches, nice villages, towns, restaurants & pubs! So many wonderful walks right from your door! Askerswell is a beautiful little village and you are able to easily walk to the nearby Spyway Inn for a drink or meal right from the cottage. The owners, The Webb's, were wonderful and very helpful when we needed them. We enjoyed talking to and getting to know them. Would definitely return. :)
Tips:
Fossil hunting on the Jurassic Coast at low tide, lots of great walks, including beautiful coastal and inner coastal walks, in the area. The beautiful villages of Abbotsbury and Cerne Abbas. Viewing the White Horse at Osmington and eating at Smugglers Inn and walking the inner coast for some wonderful views at Osmington Mills. Anchors Inn in Seatown with more great inner coastal walks. The Crown Inn in Puncknowle. The beautiful church in North Chideock. And the Spyway Inn in Askerswell.
Would Recommend: Yes
6th March 2019:

Would Recommend: Yes
7th January 2019:

A beautifully and tastefully restored mill. Very comfortable and warm. Need to be aware this is a mill so not usual cottage layout but this made it more fascinating with all the original workings on view. Large garden great for supervised children and dogs. Good supply of logs for wood burner. Location convenient for coast in a peaceful situation.
Tips:
Local pub Spyway good fish n chips take away on Friday. Walking distance especially across fields in daylight. Seatown beach pebbly but fascinating seems quieter than others, Anchor pub near the sea has good atmosphere.Burton Bradstock beach good walks on cliffs and trendy cafe. Charmouth beach has fossil shop and centre with a little cafe on the beach. All good for dog walking although not sure of summer restrictions. Bridport has variety of shops and a lively Saturday market. Fossil museum at Lyme Regis is fascinating and further afield one at Kimneridge is fabulous. Lulworth Cove and nearby beaches are very beautiful but imagine become very busy in season. So much to see and do,lots of great cliff walks, visit Iron Age fort remains,local Eggardon Hill and drive to Maiden Castle.
Would Recommend: Yes
6th November 2018:

We had a lovely few days. Cottage was quirky, cosy and had everything we needed. Could have done with a few more glasses. Garden was great. Owners welcoming and left us to ourselves.
Tips:
West Bay busy but dramatic, we had a great lunch at the watchtower. Bridport fab fish and chip shop, great little shops. Walked around Hardys monument, fantastic views. Lyme Regis very busy. Had a lovely lunch at the spyway inn.
Would Recommend: Yes
12th October 2018:

We had a great stay at the Cider barn and were very comfortable.
Tips:
Visit Burton Bradstock beach.
Would Recommend: Yes
13th September 2018:

This was a very peaceful location to stay in. Handy for travelling anywhere in Dorset. Shaun and Jude and the lovely Helen were a lovely family, and would do anything you asked them to. It was home from home. We loved staying there. We were very lucky with the weather too. Thank you Shaun and Jude.
Tips:
Marquess of lawn pub in Powerstock. Excellent food, also the Symondsbury estate is worth a visit, and of coarse all the local beaches are worth a visit. Lots of different walks especially egardon hill where there are some wonderful views.
Would Recommend: Yes
6th September 2018:

Beautiful cottage that serves as a great base for heading out to the coast & surrounding areas such as Seatown, Lyme Regis and Lulworth.
Would Recommend: Yes
17th July 2018:

We had a lovely stay in the cider barn. The barn itself has been renovated to a high standard and had everything we needed. It is in a very tranquil setting and our daughter loved the expansive outdoor space alongside the barn, especially seeing the chickens and ducks and the neighbours' pigs! The barn is also well placed to visit various beaches and tourist attractions without having to travel too far. Shaun was helpful and friendly, and we really appreciated him going the extra mile to post us back something we left behind in the barn after our stay. All in all, a great week away.
Tips:
We enjoyed a nice meal at the local pub "the spyway inn", which also had a great outdoor play area for our toddler - but watch out for the field of cows if walking across the fields from the barn! Also the Soulshine cafe in Bridport for tasty healthy food and a relaxed vibe, and Baboo ice cream in both Lyme Regis and West Bay for less healthy but very delicious ice cream! Our 3-year-old enjoyed the local beaches (Burton Bradstock picturesque but pebbly, West Bay a bit sandier) as well as the small aquarium in Lyme Regis and Abbotsbury children's farm (small, but in a lovely setting and with a nice mix of activities).
Would Recommend: Yes
15th June 2018:

Fantastic property which provides all the home comforts you need in the idyllic setting of a farm and orchard. The barn and mill are steeped with history and cleverly give that feeling but with the luxury of contemporary design.
Tips:
A la Ronde - A National Trust property is well worth the drive into Devon for a quirky historic experience The Half Moon - fantastic food and landlord
Would Recommend: Yes
6th June 2018:

The mill was perfect and a wonderful place to stay for a week for me and my family. The accommodation is very comfortable and has many original features, it was very interesting for the children to see the working of the mill. The outside space was way above our expectations, the animals (chickens, sheep, pigs, ducks, and dogs) kept the children entertained and they enjoyed feeding them on a daily basis. I would highly recommend the cottage. The highlight was when Shaun got the water wheel going round!
Tips:
Enjoy a daily walk from the cottage to the Spyway Inn for a pint of beer - only 2 miles. The Local church in Askerwell was also very peaceful for one to sit and contemplate life for an hour. The lobster and chips at the Hive Cafe in Burton Bradstock is a must!
Would Recommend: Yes
13th May 2018:

Would Recommend: Yes
16th April 2018:

The location of the property is great in terms of accessibility to local attractions and walks. The setting is beautiful and the accommodation is fantastic. The added extras of the lambs, pigs and hens, the working water wheel next door and the huge garden with slide and swings and stream and magical tree - make this stay idyllic.
Tips:
Our top eats were The Crown at Uploders, the Spyway Inn and the Hive Beach Café. We loved fossil hunting at Charmouth, Lyme Regis and Kimmeridge. Loved walking at Durdle Door and up to and around Golden Cap and to Burton Bradstock. The maps made by Croyde Cycle are brilliant for walking. Check out their website. We enjoyed Tyneham village and walk to the nearby bay.
Would Recommend: Yes
7th March 2018:

Very friendly and helpful
Would Recommend: Yes
14th November 2017:

Great location to relax and easy access to many locations. Cottage is well maintained and has a great feel to it to relax. the history of the building itself is amazing and with the log fire burning away it certainly worked for us.
Tips:
There is a great Pub around the corner that does amazing food. I cannot remember the name but the menu is in the cottage. it is only a 3 minute drive away and well worth a visit. Great location if you want to visit the Broadchurch sites.
Would Recommend: Yes
.