Pound Cottage
Chideock Bridport
Tel: 01297 480882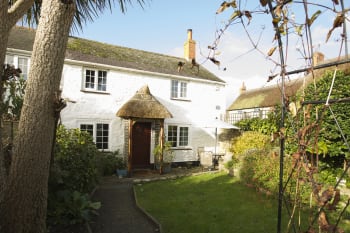 Pound Cottage A warm, cosy cottage with gas central heating and woodburner Sleeps 4 +cot. Mox 2 dogs. Open all year, short breaks out of season Pound Cottage is a newly renovated and pet-friendly cottage in the heart of village of Chideock and just across the road from The George. Located in beautiful West Dorset, it's only a 20 minute walk to the picturesque beach, the coastal footpaths and The Anchor at Seatown, both are excellent pubs with a reputation for good, tasty, locally sourced food. Lyme Regis and the surrounding area in West Dorset is an ideal location for taking a well-earned cottage holiday or self catering short break. Disocver the beautiful Jurassic Coastline, a world natural heritage site with dramatic seascapes, stunning landscapes and fossil finds. Whatever the weather or time of year always lots ot do and see in Dorset.
Availability
There are no rooms available at Pound Cottage
for these dates.
Please try other dates or select a
different property
.
cottages
Max:
Pound Cottage, equipped to a high standard with a cosy woodburning stove in t... more >
Pound Cottage, equipped to a high standard with a cosy woodburning stove in the lounge.Room Facilities:
dogs welcome
Bath/Shower
Cooker
Dishwasher
DVD Player
Electric Shaver Point
Fridge/Freezer
Games Console
Hairdryer
Ironing Facilities
Kitchen
Linen & Towels Supplied
Living Room
Microwave
Multi Fuel Wood Burning Stove
Private Car Space
Radio
Tea/Coffee
Television
Washing Machine
Facilities
Wi-Fi
Bar (nearby)
Shop (nearby)
Policies
Check In: Between 16:00 and 18:00
Check Out: Between 9:30 and 10:00
Wi-fi: Wireless internet is available and is free of charge.
Smoking: There is no smoking permitted anywhere within the property.
Parking: Parking for all guests is available on site and is free of charge.


Children: Children of all ages are welcome.
Pets: Pets are allowed at a charge of £20.00 per stay.
Groups: No stag and hen groups.
Average
4.8
out of 5
40 reviews
98% recommend
Reviews
25th September 2021:

A really enjoyable stay. Cottage was lovely, though could be challenging for taller people. Cottage well equipped. Communication and follow up check from owner was appreciated, though we had no issues at all.
Would Recommend: Yes
19th July 2021:

The cottage was great, so easy to get to many different towns and beaches. Everything you need is provided. The road, as described by the owners, was very noisy, especially when needing the windows open in the warm weather. However we were aware of this when booking and were prepared!
Tips:
Highly recommend pizza night at The George Inn. Queues at The Anchor in Seatown are long but very much worth the wait. Definitely get there early to make sure you get a table. Head down to Seatown beach for beautiful sunsets over Golden Cap.
Would Recommend: Yes
11th December 2020:

We had a lovely weekend. The cottage was very well equipped, we couldn't have asked for more. We all loved it.
Tips:
The George was excellent, very friendly and helpful too. We didn't get around to trying the other pubs.
Would Recommend: Yes
14th September 2020:

Nicole the owner is lovely to deal with, and has a wealth of knowledge on the area which she is happy to share. The cottage itself is nice and cosy with everything you need to ensure you have a really pleasant stay, and is ideally located to enjoy the beauty of this magnificent part of the country. We really had a lovely week.
Would Recommend: Yes
17th February 2020:

Would Recommend: Yes
26th September 2019:

Warm and very cosy cottage in a great location, despite the busy road. Ideal location for lots of lovely walks and close to the sea. Very well equipped. very clean and very comfortable beds.
Tips:
Three good pubs in the vicinity, the George being directly opposite, the Clock just a short walk up the Main Street and the Anchor at Seatown which has great views over the sea and surrounding area.
Would Recommend: Yes
30th May 2019:

The cottage was spotlessly clean, well equipped and one of the best we have stayed in. We expected traffic noise due to its location but this is balanced by its proximity to beaches - walking and by car, to local facilities and great walks. The biscuits and milk on arrival were a lovely touch too. I would highly recommend this cottage as do my children and we hope to stay there again.
Tips:
Book into the pub opposite at the weekends. Take a walk to Seatown beach
Would Recommend: Yes
24th November 2018:

Could not fault anything with the holiday. Cottage and location were perfect.
Would Recommend: Yes
25th September 2018:

It was lovely to meet you in person Nicole and have first hand recommendations of dog walks and lovely places to visit. Although I have to say the details that you sent beforehand were equally informative. You had made the cottage a cosy comfortable place to stay with lovely personal touches that we all appreciated.
Tips:
We loved the area in general and there are wonderful beaches and stunning scenery all within a few miles. We caught the bus to Bridport and found it a very interesting town, worth a visit. The food in all the restaurants that we went to was excellent. The George (rude not to as it is directly opposite). The Clock,also in the village, with a heart rendering tale of the dreadful fire that left the family homeless but thankfully unharmed and how the pub rose from the ashes. The Hive Beach a fish restaurant (on Hive Beach of course and be warned we had to queue for about half an hour but it was well worth the wait)
Would Recommend: Yes
23rd August 2018:

Location area is worth 5, the busy road makes it a 3 The cottage exceeded our expectations: lots of space, cosy en very complete! We had a wonderful stay and it's worth a return visit.
Would Recommend: Yes
24th July 2018:

Location of cottage great to explore the area. Cottage has everything you need for a stay away from home. Communication was also great. Brilliant place to stay very dog friendly and the garden is secure for smaller dogs which sometimes you don't always find.
Tips:
Walked every evening down to seatown of course stopping for a drink in the Anchor. Went for a meal in the George opposite very nice meal but felt it was a bit overpriced for what it was. Found Burton Bradstock beach which we found to be a wonderful beach for walking the dogs, and also Charmouth. Such a nice area to explore.
Would Recommend: Yes
9th July 2018:

The cottage was cosy and very well equipped. It is only a short and pleasant walk to Seatown beach.There are 3 pubs in walking distance where you can get a meal. The downside is the very busy main road, theA35, which is difficult to get across if you're a pedestrian,and there is no pavemeny on the side of the cottage.However, I realise that this is an old cottage and they were not designed with today's traffic in mind!
Tips:
Lovely meals at the Clockhouse inn, very friendly local pub, not touristy. West Bay is interesting, where they filmed 'Broadchurch'
Would Recommend: Yes
4th June 2018:

Absolutely gorgeous cottage, everything you need for a home from home, very cosy! The mattresses were too soft for our taste, and if you're a light sleeper there is noise from the road quite early.
Tips:
Lovely walk to Seatown..... we loved visiting West Bay, only £2 to park by the beach all day and dogs are allowed on the beach under the cliff. Owners in Clockhouse are super friendly!
Would Recommend: Yes
8th May 2018:

We thoroughly enjoyed our stay. The Cottage was well equipped including the Kitchen. Very quaint and relaxing. Lots of places to go from right on the Doorstep if by Car or walking. We will definately return. The weather was kind to us as well. It was booked as a Birthday Treat so was really enjoyed. Many Thanks. Loraine & Bob
Tips:
Lyme Regis was nice. Sidmouth was so lovely with quaint shops and a lovely seafront. So many nice places in the area almost spoilt for choice.
Would Recommend: Yes
18th November 2017:

Close to local amenities , enclosed garden (vital with busy road), well equipped cottage with everything you need.
Tips:
Good pubs locally, great walks in all directions, cosy for a winter break especially if the weather is good.
Would Recommend: Yes
10th October 2017:

Lovely, cosy cottage with everything you could need. The beds were really comfortable and a splendid welcoming pack! The dogs were also impressed with their welcome pack. Thanks for making us so welcome.
Tips:
We only stayed for a long weekend but managed to do several walks each day. We took our dogs on the walk to Seaton before breakfast every morning then out to West Bay, Charmouth and Chessil Beach. Felicity ' s Farm shop is brilliant for local produce and gifts to take home. Also, fish and chips at West Bay went down well after a long walk.
Would Recommend: Yes
7th October 2017:

Would Recommend: Yes
25th June 2017:

Lovely well equipped cottage in a great location
Tips:
George Inn (opposite cottage) - lovely food especially pizza night on Thursdays. Felicity's Farm Shop just down the road is worth a visit. Their sausages and butter are great!
Would Recommend: Yes
22nd April 2017:

Beautifully furnished and well equipped cottage.
Tips:
Surrounded by lots of great walks and views. Walk to Seatown with a quick refreshment break at the Anchor! Lovely walk around the national trust woods and onto Golden Cap stop off at Felicitys farm shop. Try the Watch house at West Bay, New Inn at Eype, Hunters Ldge at Axminster if you are travelling around. Without a doubt go to the George opposite the cottage, food is lovely and staff really friendly, Sunday roast is lovely.
Would Recommend: Yes
23rd March 2017:

Very efficient booking process and follow-up. Very homely cottage with everything you need.
Tips:
Lots of walking opportunities with the South West Coastal Path close by. Handy shop down the road.
Would Recommend: Yes
11th March 2017:

lovely warm,clean, well equipped cottage, best we've stayed in.
Tips:
Seatown to West Bay,Colmer's Hill, Golden Cap all great walks. Charmouth for fossils. Rachels in West Bay for fish.
Would Recommend: Yes
15th February 2017:

We love coming to Pound Cottage-our second time here. It is so cozy and well-supplied. It is by the road so a bit dangerous for crossing over, but great location for walking to Sea Town and climbing Golden Cap.
Tips:
It's a short drive to Charmouth for fossil hunting and Lyme Regis. We really enjoyed climbing up Golden Cap. Great farm shop down the road. The Anchor Inn does nice meals, over in Sea Town. Also a great play ground for kids at West Bay.
Would Recommend: Yes
22nd November 2016:

Lovely cosy cottage with everything we needed to make our short stay enjoyable & comfortable. Lots of information, leaflets and recommendations. Good location with easy access to nearby towns.
Tips:
Bridport-great Saturday market Lyme Regis-attractive seaside town Moore's bakery (yummy biscuits)
Would Recommend: Yes
3rd November 2016:

Cottage is lovely and cosy and thoughtfully decorated. Chideock is a very nice village with plenty of walks around and obviously the selling point of the cottage is being so close to the beach. Sunsets while enjoying a drink at the Anchor are amazing.
Would Recommend: Yes
27th September 2016:

Everything clean and ready for our arrival. Well maintained with good facilities
Tips:
Good location no need to use car all the time! Well situated for walkers wishing to explore Jurassic coast and inland. Bus service very good,
Would Recommend: Yes
20th August 2016:

Really enjoyed our stay,cottage was perfect, do cozy and homely. The only small drawback was the traffic noise, although it didn't cause us huge problems and realised that there isn't much you can do about that. It had not put us off wanting to return
Tips:
Staff are very helpful and friendly at the pub across the road, and recommend pizza night there. Eype beach was a fantastic find
Would Recommend: Yes
26th July 2016:

Absolutely everything was perfect except that we did find the traffic from the main road rather noisy, but the windows were very good so I expect it would not have been a problem except that we were there at an unusually hot time of year so we had to have all the upstairs windows open to sleep. Also the traffic on the main road made the journey to the beach bridle pass a bit harrowing. Everything else was ideal though - lovely garden (although rather noisy to sit out in), comfortable furniture, appealing decor, well-outfitted kitchen, helpful local guides in the guest binder.
Tips:
The George is excellent! Lovely food and nice pub all round. We also very much enjoyed eating at the Hive Beach Cafe which was quite near, and Brassica in Beaminster. The Abbotsbury Sub-Tropical Garden was a nice, shady place to spend a very hot day, and has good views of Chesil Beach. In addition to the local farm shop the one at Burton Bradstock is very good - it sells raw Jersey milk that is delicious.
Would Recommend: Yes
21st May 2016:

Booking was very easy and if needed you were only a phone call away. Accomadatino was described accurately and even more than we expected. Thank you for a wonderful holiday.
Tips:
The George inn opposite is a excellent local pub and does great food. If you want a takeaway we would recommend K.Yuen in Bridport which is 5 minutes away by car. We also found a trip 15 minutes away to Hive beach is great if you have your dog with you, it is run by the national trust and has a great cafe to have some lunch at.
Would Recommend: Yes
11th April 2016:

Most holiday homes - no matter how good - feel like ... holiday homes. Walking into this one felt as if we were stepping into someone's home, which they had only just momentarily vacated, leaving behind, everywhere, thoughtful touches : personal objects at your disposal, even a highly sophisticated fishing rod, logs for the fire, a very large good quality flat screen TV, immaculate bedlinen, excellent towels, all in tastefully decorated spaces. Usually, when we go, we like to leave a house cleaner than it was on arrival; on this occasion, it wasn't possible!
Tips:
Walk along the coastal path from Seatown to Eype and stop off for lunch or tea at Downhouse Farm. Fabulous setting on traditional farm, delicious, wholesome home-cooked food. Also walk from the house to Golden Cap for some amazing views.On a rainy day Dorchester Museum is a lovely, compact provincial museum in a beautiful old building (the galleried room alone is well worth the visit). Dinoland in Lyme Regis is another gem if you are into fossils.
Would Recommend: Yes
Owner Response:
Delighted with your review, thank you. We do try to make your stay special and hope you will come back for more of Dorset!
1st March 2016:

The actual location as in coastal area was fantastic - very easy to get to different areas of Dorset. Location as in village was very noisy from constant traffic but it did not detract from this chocolate box cottage.
Tips:
The George Inn opposite cottage has not long been taken over the food is very tasty but it is advisable to book also The Anchor Inn at Seatown is worth a visit well worth walking there, don't forget torches. We visited Corfe Castle and village thats well worth a trip quite away but loads of places to visit on the way back if you set out early enough, Swanage Old Harry Rocks to name but a few.All these places were quite happy for our dog to visit as well.
Would Recommend: Yes
22nd February 2016:

We had a lovely few days in Dorset. Pound Cottage is equipped with everything you need and the extras like tea/coffee/biscuits/soap/towels etc are something you wouldn't normally find in SC accommodation. It was also spotlessly clean and I am fussy so would highly recommend it. Not really an issue but it is on a main road so families with young children would need to take care - there is a gate however.
Tips:
The pub opposite serves great food. A walk up to 'Golden Cap' is worthwhile for the views. We also did a nice walk from Charmouth to Lyme Regis.
Would Recommend: Yes
22nd February 2016:

What a cosy cottage! We really enjoyed our stay and loved all the extra touches. It's a really well supplied cottage in a great location. We hope to be back again.
Tips:
There is a great little 15 minute walk to the beach at Seatown. The kids loved the play area near the East beach of West Bay. Also Lyme regis with mini golf and some sandy areas of beach was a good day out. Also very close was the Chocolatiers cafe in Bridport. There's a farm shop down the road to the west which sells logs etc and we even found gluten free pasties there!
Would Recommend: Yes
9th February 2016:

I booked Pound Cottage for my wife's birthday weekend. 2 young kids and our Whippet could not have picked a better place. Dreadful weather, I mean dreadful, but the cottage saved the weekend. Great location and a real home from home. More than everything you need and super comfortable and homely. Seriously do not look at anything else, if the cottage is available...book it.
Tips:
The George opposite was fantastic and Jamie is very welcoming. Hive Beach Cafe is a few minutes away and well worth going.
Would Recommend: No
25th January 2016:

We have stayed 5 timed and found it very cozy a home from home.
Would Recommend: Yes
20th January 2016:

Tips:
Great dog walk on National Trust trail on the Chideock side of Morecomelake. 1 1/2 mile gentle circular route. George Inn serves good food and has roaring log fire.
Would Recommend: Yes
17th November 2015:

Such a great a little cottage with so much to offer and in such a great location.
Tips:
The Anchor Inn, Seatown - Very very very small pub and gets very busy but worth it. The George - Food amazing and staff great and the added bonus of being right opposite.
Would Recommend: Yes
7th November 2015:

Excellent cottage like home from home. Very comfortable, easy walk to beach and cliff walks. Perfect location. Pictures don't do it justice on the website.
Tips:
Go...stay for a week and chill...
Would Recommend: Yes
25th August 2015:

Lovely clean cottage. Had everything we needed for our short stay. We will definitely recommend it to anyone wishing to visit Dorset.
Tips:
The George pub is just across the road, good food. The cottage is well located for visits to Lyme Regis, Charmouth or West Bay. Lots of lovely walks.
Would Recommend: Yes
22nd June 2015:

Fantastic experience, great atmosphere, TV was impressive compared to other holiday lets as were the furnishings. Wobbly toilet seat in the upstairs was the reason for the 4
Tips:
The George is very friendly and helpful when you mention where you are staying and the walk to Seatown is worth it. We are hoping to book again
Would Recommend: Yes
5th June 2015:

Excellent cottage. clean and homely. Everything you need for a family of four, including, games, CDs and DVDs a plenty! Not that we used much as too busy exploring!
Tips:
Park less than 5 min walk away on way to beach, safe fenced in play area and additional field for football or other sports. Walk to beach suitable for taking kids bikes and scooters if a bit up hill on way back. Kids didn't complain! Pub on beach (the anchor inn I think) nice food, fantastic views & George inn (pizza night Thursday's - pre book) Morrisons 5 minute drive. Village shop open 8-8 for essentials! visiting West bay is a must!
Would Recommend: Yes
.